News
06/28/2016 10:21 AM
-
This week is one of the most exciting weeks every year in the WMBL. Friday is Canada Day which means there will be ballparks packed to watch some of the best the WMBL has to offfer this season. More on the Canada Day festivities in the WMBL Weekly Roundup. After another great week of WMBL action we are just about halfway through the season. Medicine Hat had another fantastic week pushing their win streak to 7 games. They now sit with an 18-3 record on the season.
As previously stated there will be one winner of player of the week. That player will be recognized on the main page of the website. If the player of the week is a hitter, a pitcher of the week is awarded, and if the player of the week is a pitcher, a hitter of the week will be awarded. The cutoff for games will be on Sunday. A new week will start every Monday.
Week # 4 (June 20-26th)
Player of the Week – Noah Gapp – Edmonton Prospects – Starting Pitcher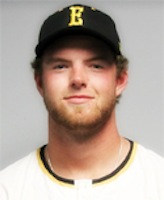 Noah Gapp pitched an absolute gem for the Edmonton Prospects this past Wednesday. Gapp and his Prospects squad headed into Swift Current to take on the East Division leading Indians, and Gapp did not disappoint leading them to a 4-0 victory. Gapp went the complete game, throwing his first shutout of the season. Gapp's line looked like this: W, 9.0 IP, 4 H, O ER, O BB, 10 SO. Gapp faced only 29 hitters in the contest, just two over the minimum. Gapp is originally from St. Albert, AB and plays at the University of the Cumberlands at Kentucky. This past season he made 12 starts, with a record of 7-3, 71.0 IP, 82 SO and a 3.80 ERA. Congratulations to Noah Gapp on being named WMBL Player of the Week.
Hitter of the Week – Kellen Marruffo – Okotoks Dawgs – 1B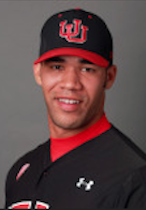 This week's top hitter award was extremely tough to call. There were plenty of notworthy players to choose from. This week's award goes to Kellen Marruffo from the Okotoks Dawgs. Marruffo led the Dawgs to a 5-1 week. Marruffo played all 6 games hitting .333 (9-27), 7 R, 3 2B, 8 RBI, .379 OPB, .823 OPS. With the 5 win week Okotoks has now pushed their way into second place in the West Division. Congratulations to Kellen Marruffo on being named WMBL Hitter of the Week.
Honorable Mention
Position Players:
Tony Taber – Brooks Bombers – Outfielder
6 G, .470 AVG, .571 OBP, 1.100 OPS, 3 R, 4 RBI, 1 2B
Hunter Hisky – Yorkton Cardinals – Catcher
5 G, .444 AVG, .473 OPB, 1.084 OPS, 2 R, 7 RBI, 2 2B, 1 HR
Pitchers:
Larry Romero – Brooks Bombers – RHP
June 23rd - W, 7.1 IP, 4 R, 1 ER, 4 H, 2 BB, 6 SO
June 26th - W, 3.0 IP, O R, 1 H, 1 SO
Bobby St. Pierre – Swift Current Indians – RHP
W 7.0 IP, O R, O ER, 5 H, 1 BB, 7 SO