News
06/14/2016 11:08 AM
-
It has been an exciting two weeks to kick off the 2016 WMBL Season. There have been some very impressive individual performances thus far. We would like to introduce our new Player of the Week format for 2016. From here on out a new player of the week will be announced every Tuesday on the WMBL website. This player will be recognized on the main page of the site. This player can be a pitcher or a position player. If the player of the week is a pitcher, a position player will be announced as well in a news article on the website and vice versa if the player of the week is a position player. We will also announce two honorable mention position players of the week, and two honorable mention pitchers of the week.
Week # 1 / 2 ( For the first edition weeks 1 and 2 in the WMBL season were taken into consideration )
Player of the Week – Alec Humphreys – Swift Current Indians – Infielder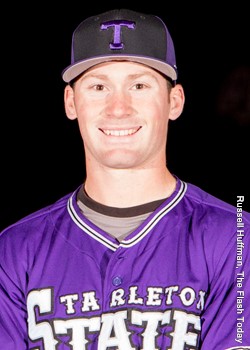 Alec Humphreys an infielder for the Swift Current Indians is having a red hot start to the season. His numbers are video game like. Humphreys has hit safely in all 10 games he has played in so far, including 8 multi hit games. All told he is hitting .605 to start the year with a .681 OBP. Humphreys has put up this incredible stat line thus far: .605 AVG, .681 OBP, 1.576 OPS, 13 runs, 11 RBI's, 3 2B, 1 3B, 2 HR, and 3 SB. Congratulations to Alec Huphreys for being named the first 2016 WMBL Player of the Week.
Pitcher of the Week – CJ Lewington – Okotoks Dawgs – RHP
Our first pitcher of the week goes to CJ Lewington of the Okotoks Dawgs. Lewington has made two starts, and thrown gems in both. Lewington's first start came against Medicine Hat on June 4th. He pitched 8 innings giving up 1 run (unearned) and holding the Mavs to only 1 hit on the night. In Lewington's second start he continued to dominate going 8 innings again to earn his second victory of the year. Lewington's statline: 2-0, 18 IP, 0.56 ERA, 9 SO, 4 BB, 6 H. Congratulations to CJ Lewington for being named the first 2016 WMBL Pitcher of the Week.
Honorable Mention
Position Players:
Alex Alders – Medicine Hat Mavericks – Outfielder
10 G, .325 AVG, .438 OBP, 1.113 OPS, 12 R, 20 RBI, 1 2B, 2 3B, 3 HR, 3 SB
Cameron Boudreaux – Melville Millionaires – Outfielder
10 G, .378 AVG, 1.081 OPS, 6 R, 10 RBI, 6 2B, 2 HR, 2 SB
Pitchers:
Nate Lainhart – Lethbridge Bulls – RHP
2-0, 14.0 IP, 0.64 ERA, 10 SO, 0 BB, 11 H
Bobby St. Pierre – Swift Current Indians – RHP
3-0 17.0 IP, 1.58 ERA, 14 SO, 5 BB, 14 H