News
08/06/2015 3:00 PM
-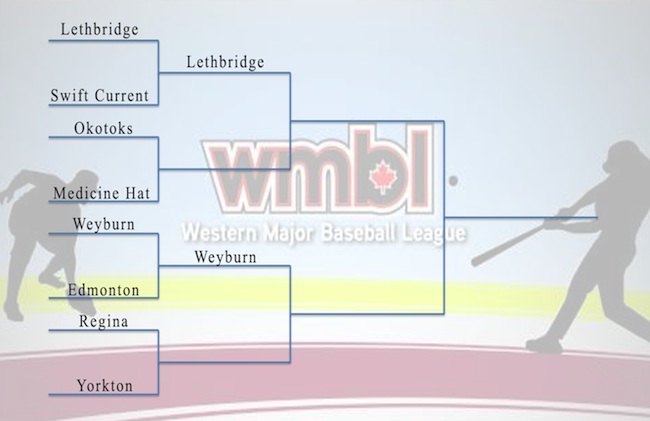 Two teams have advanced and two series are undecided in the 2015 WMBL Playoffs. On Tuesday night in Swift Current, Dylan Dyson led the Lethbridge Bulls to a series sweep over the Indians. Dyson was 5-5 with 2 HR's and 3 runs scored on the night. The Bulls will enjoy three days off before they play another game this Saturday night. The Bulls will play the winner of the Okotoks and Medicine Hat series in round 2 of the playoffs.
Okotoks took a commanding lead in their series against the Medicine Hat Mavericks by taking the first two games at Seaman Stadium on Sunday and Monday, however the Mavericks have answered back by winning both of their home playoff contests. Thursday night the rubber match will take place in Okotoks. In Tuesday's contest Zach Johnson and Bryan Arthur both hit grand slams in the game. Johnson's coming in the first inning and Arthurs in the 5th. The homeruns led the Mavericks to an 11-6 win over the Dawgs. On Wednesday night the Mavericks downed the Dawgs 11-5 to tie the series at two. Ryan Kemp of the Mavericks was 3-5 with 2 runs scored and 4 RBI's.
After Edmonton extended the series to four games on Tuesday the Weyburn Beavers ended the prospects season with a 4-2 victory on Wednesday. Scott Beever started on the mound for Weyburn and went 7 strong innings up giving up 6 hits and 1 ER. Seven different Weyburn players recorded a hit on the night including a triple by Wiley Johnston. The Beavers will now play the winner of the Regina and Yorkton series. Game 4 of that series will be played Thursday night after Wednesday's contest was rained out.
Good luck to all teams as we push closer to the second round of the 2015 WMBL Playoffs.